First things first, a big thank you to all of you who have joined me in celebrating my blog birthday. You guys are the best! If you haven't done so yet there is still some time to enter for your chance to win a gift basket of Icelandic candies, I promise I will only pick the good ones!
Now on to today's post.
This post has been popping up on my fellow travel bloggers blogs left and right and I am finally joining in on the fun. While I spend most of my time wanderlusting after new places to visit there are a few places that I have been lucky enough to already travel to that I would love to visit again. If only my full time job was traveling the world! These 5 places are all must see if you haven't been yet, fingers crossed I get the chance to go back again as well!
1. Florence, Italy
From the minute we arrived in Florence I knew it was a city I was going to fall in love with. When I think of Florence I picture wine tasting out in the country side, strolls along the river, and checking out the little markets in the city. Lucky for me this is exactly what we found Florence to be. Now if I can figure out a way to have my own little cottage in the countryside of Tuscany, my own "Under The Tuscan Sun" moment.
2. Greece
Take me anywhere in Greece and I would be one happy girl. I spent my two weeks island hopping in Greece on cloud nine, it was amazing. The food, the beautiful beaches, wonderful people, what more could you want?? But really the food, I would revisit Greece just to eat more of the delicious Greek cuisine!
3. Korčula, Croatia
Korčula was added to our time in Croatia at the last minute and neither H or I expected much from our time there. Were we wrong! Korčula ended up being the highlight of our two weeks in Croatia, I only wish we had planned more time there. Stunning blue water, vineyards just a bike ride from the beach and a charming old walled in city, Korčula I expected very little from you and you blew my socks off. The most charming little island, we will be back!
3. Sydney, Australia
via
Sydney will always be a special place to me. It was the first place I traveled abroad, it was where I fell in love with traveling and my Viking, and the city and country is just amazing. If I ever get the chance to head back down under you better believe I will jump at the opportunity!
5. London, England
With less than 24 hours in the city my time in London was cut far to short. We were so rushed trying to fit everything into the time we had, my day in London seems like a total blur. This is seriously one of the only pictures I have from London! A proper trip back to London is a must so I can get to really explore the city. And a visit to Harry Potter Studios is on my bucket list so I definitely have to return!
Now I just need to figure out how to revisit all of these places as well as visit all the new ones, especially those on my European travel bucket list!
Question of the Day?
What places would you like to revisit?
———–
Welcome to the
FRESH FACE FRIDAY BLOG HOP!
No prompt, just fun!

Hosted by: Casey @ We Took the Road Less Traveled
Rules for hopping:
1| Follow your host & co-hosts (first 3 links), pretty please!
2| Link up your blog's homepage or Bloglovin' page.
3| Hop around, meet new bloggers, and leave them love!
4| Have fun? Spread the word and share this blog hop with your friends!
5| Want to be a co-host? Click here for more info!
Grab a button and share the blog hop love!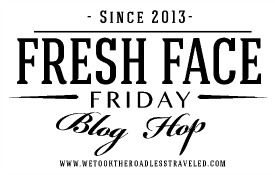 Tweet about this blog hop!
Tweet
END CODE